Povestește-ne cum ai aflat despre Imago și ce te-a făcut să vrei să faci parte din echipă. Este o povestioară interesantă! Am avut norocul ca Antonia Constantinescu, colega mea din liceu, să stea în banca din fața mea. Țin minte chiar și acum povestea despre ei, dar și modul convingator în care Antonia a relatat. Modul în care ea a descris ce se întâmplă la Imago, m-a convins că vreau sa fac parte din echipa aceasta și să insist puțin pentru a merge și eu la o întalnire cu ei pentru că atunci țin minte, nu se faceau recrutări. Era 2015 iar eu eram clasa a IX – a.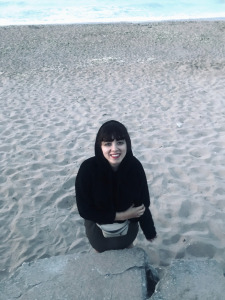 Un proiect / o activitate de care îți aduci aminte cu mare plăcere. De ce? Schimbul de tineri prin programul Erasmus+, Communicate, connect with the world! For better job, better life! organizat în municipiul Pitești și în comuna Corbeni. A fost prima ea experiență internațională. Am cunoscut oameni din diferite țări (Belgia, Polonia, Portugalia) ce au venit pentru acest proiect păstrând legături de prietenie chiar și în prezent. Nu știu dacă doar am reușit să ne împrietenim pur și simplu sau prin faptul că Imago a facut o treabă excelentă în a ne apropia cu fiecare activitate desfașurată de-a lungul acestei perioade. Este extraordinar cum simple schimburi de replici și activități pe măsură să apropie niște necunoscuți într-un mod alert dar plăcut, benefic pentru fiecare dintre noi.
Cum te-a schimbat experiența Imago? Nu găsesc decât cuvinte de laudă față de echipa Imago și de cum toată această experiență mi-a modelat felul de a fi și de a acționa în prezent.
Cum ți-a folosit, mai târziu, experiența Imago pe plan personal și profesional? Imago m-a ajutat sa am un dor de ducă excelent și necontrolabil. Doar prin faptul că am fost voluntar Imago Mundi, am plecat de nenumarate ori în afara țării, plimbându-mă cred eu, prin toata Europa, singură, dar și cu ei. Mereu am vrut să călătoresc și să descopăr ceva nou. Aș spune că abilitatea de a comunica dezvoltată în timpul voluntariatului și faptul ca oamenii te ascultă în momentul în care e randul tău să-ți exprimi părerea, mi-a oferit o propulsare în a face auzită vocea mea în cadrul activității profesionale.
Cu ce te ocupi în prezent? Studiez Masterul pe Arte Grafice și Design în Lublin, Polonia și lucrez part-time ca Graphic Designer pentru un studio de arhitectură din Romania.
De ce ai recomanda tinerilor voluntariatul? Este fun si imprevizibil, s-ar putea să-ți schimbe viața, în bine!