Iuliana Roman, profesor de Fizică al Colegiului Național Zinca Golescu și lucrător de tineret al Asociației Imago Mundi, a partcipat între 24 noiembri – 4 decembrie 2021 în Welland (Niagara Falls) Canada, la o mobilitate pentru lucrători de tineret a proiectului "Equipping You to Prevent Trafficking In Youth" cofinanțat prin programul Erasmus+. Au participat la acest curs de formare 25 de lucrători de tineret de la 5 organizații, reprezentând tot atâtea țări:
– Cross Culture International Foundation (CCIF, coordonator, Malta);
– Open Gate La Strada (Macedonia de Nord);
– Imago Mundi (România);
– Tools of Empowerment for Success (TOES Niagara, Canada);
– Varna University of Management (VUM, Bulgaria).
Scopul principal al mobilității a fost participarea la un curs dedicat lucrătorilor de tineret pentru a-i pregăti în privința prevenirii traficului de ființe umane, mai ales a persoanelor tinere, dar și de a acționa corespunzător în situația în care se interacționează cu altfel de victime, de a proceda în cunoștință de cauză în situațiile care pot să apară.
Cursul s-a desfășurat la Universitatea din Brock, într-o sală modernă, dotată cu tot ceea ce era necesar prezentării cursului.
Grupul de 5 persoane format din membri ai organizației Imago Mundi a sosit în Toronto pe data de 24 decembrie, întâlnirea cu alți participanți la reuniunea de proiect având loc la aeroport, de unde am fost transportați cu un autobuz în orașul Niagara Falls, la hotelul unde am fost cazați pe durata mobilității.
În prima zi, pe 25 noiembrie, în prima zi de curs, am cunoscut pe ceilalți participanți din Malta și din Macedonia de Nord și pe gazdele canadiene.
Am început activitățile după ce Nyarayi Kapisavanhu, fondatoarea organizației TOES, a citit Lands' Acknowledgements, un act de împăcare națională, o recunoaștere a suferinței provocate popoarelor indigene de către coloniști, reprezentând actuala filosofie națională a Canadei, stat multicultural, conform căreia cei care trăiesc astăzi pe aceste pământuri au datoria de a lăsa și generațiilor viitoare ceea ce le este necesar.
A fost prezentat proiectul, ceea ce s-a realizat până în acel moment, precum și o analiză a nevoilor de pregătire în acest domeniu, extrem de sensibil, a lucrătorilor de tineret.
După un scurt icebreaking și prezentarea cursanților, a avut loc o activitate interactivă, deosebit de interesantă,"Icebergul", trainer fiind TreciaMcLennon, coordonator Comunicare Interculturală de la departamentul de Drepturile Omului și echitate al Universității) prin care s-a făcut o analogie foarte inspirată între un iceberg și cultură. Au fost analizate manifestările culturale evidente, vizibile (costume, obiceiuri, limbă, tradiții), dar, mai ales, ceea ce este ascuns privirii (mentalități, modul de luare a deciziilor, credințe). Consider că acest exercițiu este fi extrem de util în înțelegerea mentalităților, la interacțiunea cu victimele traficului uman de altă naționalitate, pentru că ceea ce este evident într-o cultură, nu se subînțelege în alta, dincolo de obstacolele vizibile, cum ar fi limba.
A avut loc o prezentare a organizațiilor participante la proiect și s-au discutat așteptările noastre vis-a-vis de curs.
Am vizitat campusul universitar al Universității Brock, facultatea de științe sociale, facultatea de medicină, facultăți de fizică, de educație fizică, de economie și management, fiind impresionați de baza materială, de arhitectura locurilor, de organizarea și de atmosfera din diferitele facultăți. Am văzut biblioteca universității, sălile de sport și bazinul olimpic, locul unde studenții iau masa. Am constatat că amabilitatea canadienilornu este doar un stereotip.
A doua zi, pe 26 noiembrie, au fost discutate diferite metode de prevenție a traficului uman, de la lupta împotriva sărăciei, la un demers susținut de educare și de informare a tinerilor, la colaborarea cu instituții ale statului.
O idee prețioasă este cea de implicare a specialiștilor din diferite domenii: lucrători de tineret asistență socială, psihologi, medici, polițiști, profesori etc., care să colaboreze în prevenția traficului de persoane, să acționeze împreună pentru a ajuta victimele,darși de activism, pentru ca să determine guvernele și comunitatea locală să acționeze prin măsuri legislative și de acordare de sprijin uman, logistic și financiar, în acest scop.
Activitățile au fost interactive, s-a lucrat pe grupe, au fost realizate prezentări interesante, au fost dezbătute diferitele abordări, existând un permanent schimb de informații, făcându-se comparații între diferitele sisteme social-politice (țări din UE și țări care nu fac parte din UE).
În partea a doua a zilei au fost discutate metode de abordare centrate pe victime, cum se recunosc victimele traficului de persoane, cum trebuie acționat astfel încât să nu se provoace o nouă traumă, ce metode pot fi folosite pentru recuperarea și integrarea economică șisocială a unei persoane în urma unei experiențe de trafic. O activitate interactivă pe care aș vrea să o menționez a fost bazată pe o poveste. Echipa de 4 persoane, după rezolvarea în mod individual, de către fiecare membru al echipei, a unei sarcini, trebuia să ajungă la o concluzie comună și să prezinte argumentele care au condus la armonizare privind decizia respectivă.Concluzia desprinsă la sfârșitul exercițiului (reflecția) era clar legată de victimele traficului de persoane și cum sunt percepute de societate, impactul pe care cultura, tradițiile și societatea îl are asupra modului de gândire individual.
În cea de-a treia zi, 27 noiembrie, a fost discutată evoluția instrumentelor legislative internaționale pentru combaterea traficului uman (Protocolul Palermo, 2000), a traficului femeilor, a copiilor și a victimelor traficului uman de altă naționalitate. Am primit vizita primarului orașului Saint Catharines, Walter Sendzik, care a vorbit de modul în care comunitatea locală sprijină victimele traficului uman.
16 Days of Activism AgainstGender-BasedViolence este o campanie internațională de contestare a violenței împotriva femeilor și fetelor. Campania se desfășoară în fiecare an de la 25 noiembrie, Ziua internațională pentru eliminarea violenței împotriva femeilor, până la 10 decembrie, Ziua Drepturilor Omului.În această idee, participanții la cursuri au purtat în această zi obiecte de îmbrăcăminte de culoare portocalie.
După-amiaza s-a discutat despre protecția și asistența victimelor traficului, echipa din Macedonia de Nord împărtășind provocările întâlnite și soluțiile găsiteîn activitatea lor, organizația lor lucrând direct cu astfel de cazuri.
Pe 28 noiembrie, în cea de-a patra zi de curs, tema principală a fost analiza unor cazuri concrete, factori importanți în managementul de caz, precum și sprijinul extern primit pentru furnizorii de servicii, alți factori cheie implicați.
In cea de-a cincea zi de curs, 29 noiembrie, s-a discutat despre colaborarea furnizorilor de servicii în managementul diferitelor cazuri de persoane traficate. Echipele au prezentat procedurile proprii de management al cazurilor împărtășind exemple de bune practici. A fost deosebit de revelatoare discuția cu un polițist canadian care lucrează în acest domeniu, invitat la curs, care a răspuns la întrebările punctuale ale participanților, fiind posibilă astfel compararea sistemelor, procedurilor și legilor pentru țările din care fac parte organizațiile participante la proiect. Am aflat despre modul pro activ în care lucrează poliția în investigarea acestor cazuri, cum se implică serviciile sociale, cele de imigrație, și cum se implică diferitele ONG-uri în ajutorarea victimelor în situație de criză, dar și ulterior, prin sprijinul acordat, în procese, în reintegrarea socială.
În următoarea sesiune s-a analizat impactul noilor tehnologii în traficul uman, prin cyber-crime, și cum s-ar putea contracara ingeniozitatea malefică a traficanților.
Ideea centrală a cursului a fost furnizarea unor instrumente de lucru (toolbox) în combaterea traficului uman pe care lucrătorii de tineret să le aibă la dispoziție și pe care să le adapteze fiecărei situații particulare. Cred că aceste instrumente pot fi adaptate nu numai în cazul traficului de persoane, dar și în alte situații, cum ar fi violența împotriva femeilor și a copiilor, dar și a consumului de droguri, aceste probleme fiind interconectate.
La sfârșitul celei de-a 5-a zile au fost înmânate participanților diplomele de absolvire a cursului Prevenirea traficului uman și metode de intervenție pentru tineri. Întrucât activitățile planificate anterior, de vizitare a unor adăposturi pentru victimele traficului nu s-au putut desfășura din cauza restricțiilor impuse de pandemie, s-a organizat o seară culturală, în care au fost prezentate țările organizațiilor participante și diferite feluri de mâncare specifice.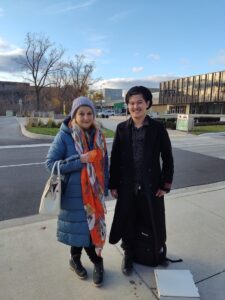 Am avut posibilitatea de a vizita de mai multe ori, seara, după încheierea programului, celebra cascadă Niagara, orașul Niagara Falls care este un oraș turistic, Turnul Skylon, prima centrală hidroelectrică din lume (1896)în construcția căreia s-au implicat Nicola Tesla și asociatul său, George Westinghouse, acum transformată în muzeu, noua centrală hidroelectrică.
Pe 1 Decembrie, echipa noastră a vizitat orașul Toronto, impresionant prin infrastructură și obiective turistice. În scurtul timp pe care l-am avut la dispoziție am vizitat Muzeul Regal Ontario, cel mai mare muzeu din Canada, având o colecție permanentă de mai mult de 6 milioane de exponate. Recent modernizat și extins, originalul Muzeu Regal Ontario a fost înființat în anul 1912. Colecțiile vaste de exponate din toate culturile lumii, mai vechi sau mai recente, și cele de istorie naturală, fac din Muzeul Regal Ontario unul din cele mai mari muzee de acest gen din America de Nord, acoperind în timp și spațiu ceea ce este Terra și societatea umană. Departamentul de Istorie Naturală al muzeului conține obiecte din 12 colecții și domenii de cercetare: Botanică, Entomologie, Herpetologie, Ihtiologie, Zoologia Nevertebratelor, Mamalogie, Micologie, Ornitologie, Paleontologia Nevertebratelor, Paleontologia Vertebratelor, Geologie si Mineralogie. Galeriile actuale de Istorie Naturală includ expoziții de lilieci, păsări, reptile și alte animale.O extindere masivă a Muzeului Regal Ontario a fost finalizată în anul 2007 și a constat în renovarea a 75% din muzeul existent și adăugarea unui spațiu public de 7.500 de metri într-o anexă nouă.
Un alt obiectiv a fost Acvariul Ripley, o expoziție extraordinară, impresionantă, pe care atunci când o vizitezi îți creează impresia că te afli sub apă, deplasarea făcându-se printr-un tunel subacvatic de 96 de metri, cel mai lung tunel subacvatic de vizionare din America de Nord, prevăzutcu o pasarelă în mișcare.Aici există 10 galerii pline cu pești și alte creaturi acvatice.Cel mai mare acvariu este cel care găzduiește rechini, conținând aproape 2,5 milioane de litri de apă.
Impresia generală după cele 8 zile petrecute în Canada este cea a unei experiențe unice, această mobilitate reprezentând o șansă extraordinară a de a învăța lucruri noi, utile pentru tineri, de a cunoaște oameni deosebiți, dedicați, adevărați profesioniști, de a realiza legături între persoane și organizații (așa-numitul networking), pentru colaborări viitoare.